Scooped from an
angelfire
website with 18 drawings, I've selected for you, the
BEST 10 of AP's sketchbook
.
For context, Ariel Pink is a lo-fi, avant garde musician from Los Angeles, California. He's noted as being "weird" or "outsider" and these drawings neither confirm nor deny this. Personally, what I like about these sketchbook drawings is they maintain craft. He didn't play down his ability to draw which is pretty great in the context of a sketchbook. The images where he does use simple lines and shading are hilarious. His drawing ability is so consistent and well-rendered, it's borderline obsessive. I always wished, when I kept a sketchbook, that my drawings would meet both criteria seen here: 1. well drawn 2. interesting but after seeing these, I don't think I can ever doodle again.
10.
This looks like some sort of contraption straight out of a Tim Burton movie but with hidden dicks?
A faceless "psychedelic businessman" is similarly Tim Burton-esque but with less dicks and shards of clothing holding on to the contraption.
I think a couple of these are for mixtapes? This is the first of the two. Ignore the great list of music on the side and just the gross, old man, face saying he's "fucked up and horny" clearly commuicates a possible underlying theme for the tape. Plus, I always want to hear "what was said at the dinner party" and music from MEGAMAN.
More traditionally artsy? It's a haunting show of draping and stretching over stuff that I can't quite make out besides the upside-down bird at the bottom.
Maybe it's a scrapped album cover or single cover, as we can see his name in the upper left corner...but continuing on the theme from number 7; it's as if items are lost in some weird mass of drape-y material.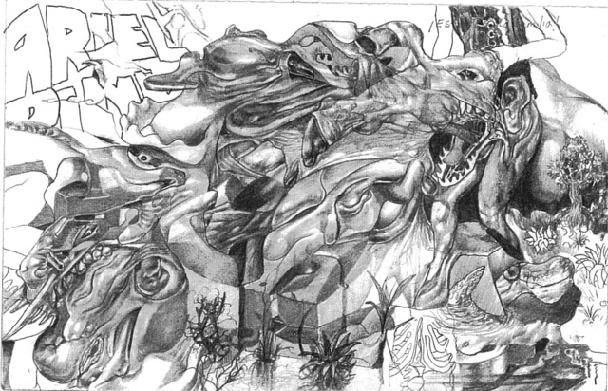 Whatever this is, I'd like to own it. It seems like another tape cover with his music on it, as I am noticing some familiar song titles. Notice that Peter Schilling, David Bowie, Santana and Isaac Hayes all played a part in the making of this :-)
Hellloooo, Benjamin Marra!!! Testosterone eaters, johnny pump? I need an AP + Benjamin Marra comic immediately.
A child hiding inside various human forms.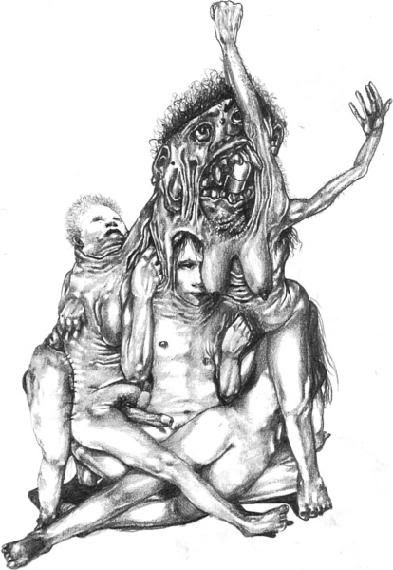 !!!!!#1.!!!!!!
Not sure I've seen a better sketchbook impression of boredom. Are those neurons coming out of the bottom? So good.